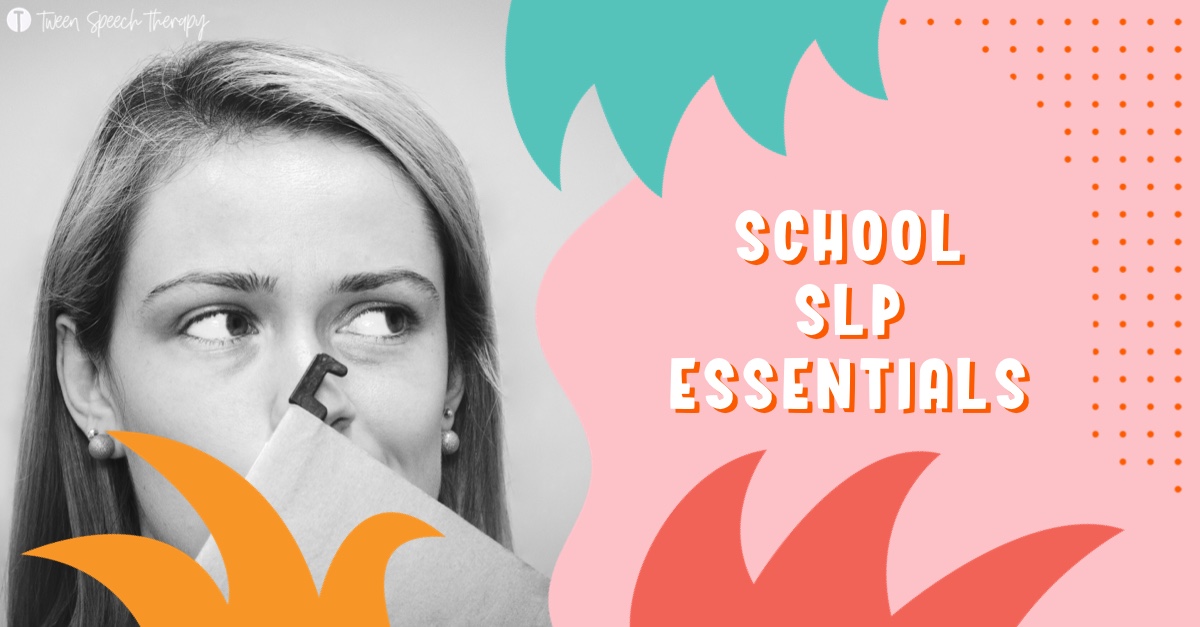 Whether you're doing in-person, virtual, or a blend, here are some resources to help you get it done.
Speech Room Posters
This cute and free poster featuring succulent plants is great to stick outside your office. It will help remind everyone where the speech room is located.
If you work with tweens or teens, this free poster featuring a llama will be a funny reminder that everyone needs to check their attitude at the door.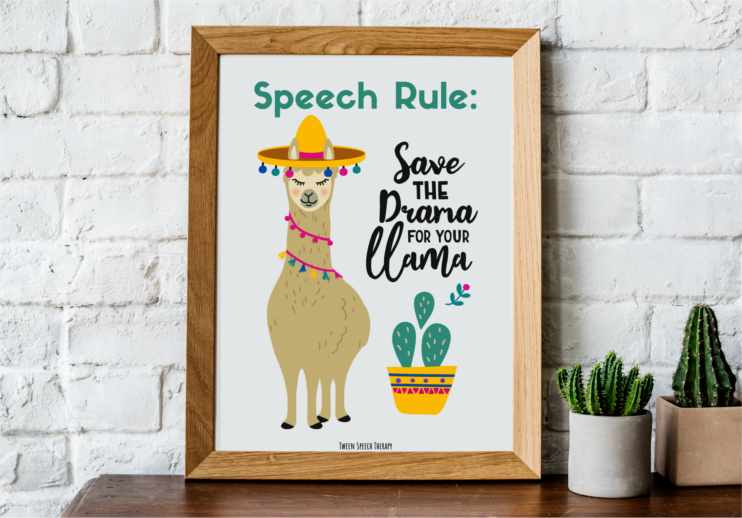 Black Belt in Communication Poster
This free speech ninja poster is made by Erik Raj. It will up your cool factor with your students, especially the older ones.
How to Paraphrase Anchor Chart
This free anchor chart is made by Greta Lewis. It breaks paraphrasing down into simple steps.
This free set of posters is made by Symons Says Kindergarten. There are two posters for each zone- one explains the zone and the other lists strategies.
If you're looking for more tips on speech room decor, you might be interested in reading my article about how to create a gallery wall in your speech room.
Organization and Documentation
Work together with your students to track progress toward their goals. The speech action plan is an editable Google Docs template that helps SLPs, students, and teachers work together on carryover of skills. You can access it in my freebie library if you're on my email list.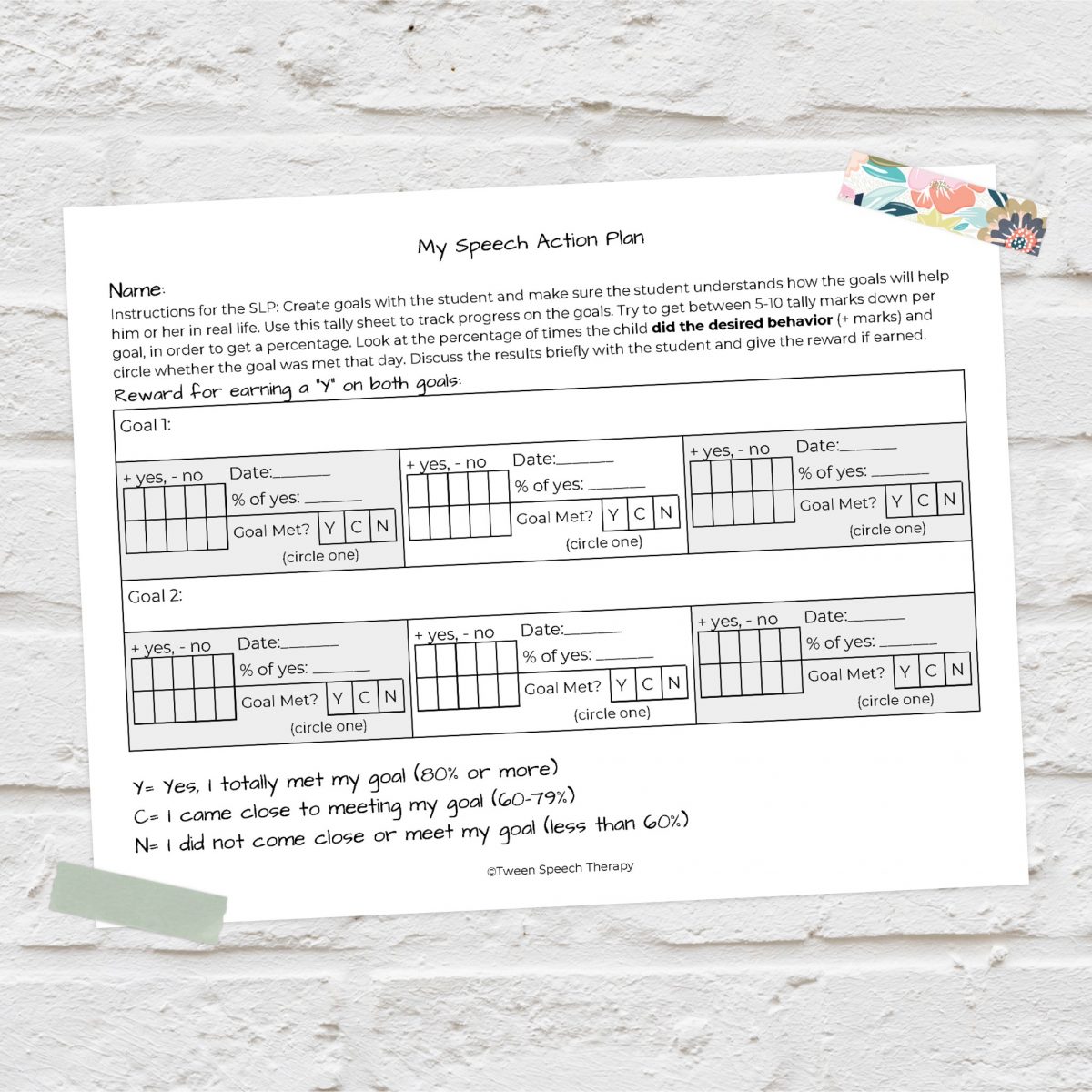 Soon Later Possible: Prioritizing Your To-Do list
This free template is made by Jenna Rayburn Kirk. It keeps me sane during the school year and helps me focus on what needs to be done right away.
If you're looking for a free and easy data sheet, this one has you covered. You can type or write the goals you're targeting and keep data for each session.
Use this editable checklist to keep track of your workflow for speech-language evaluations.
School Speech Therapy Tools
If you've ever assessed or treated cluttering, you know that it can be very challenging (read my article about cluttering). This bundle has four different tools to help you: rating scales, conversation sample analysis, review of symptoms, and cluttering homework.
Back to School Speech Therapy Homework
This free homework packet will get your students talking about speech therapy at home. It covers the basics, like what goals they're working on and what their SLP's name is. You might also be interested in my article about speech therapy homework. For virtual sessions: You could send the parent letter and homework sheets, with instructions for how frequently to do each one. If you assign one per week, you'll have 6 weeks of homework.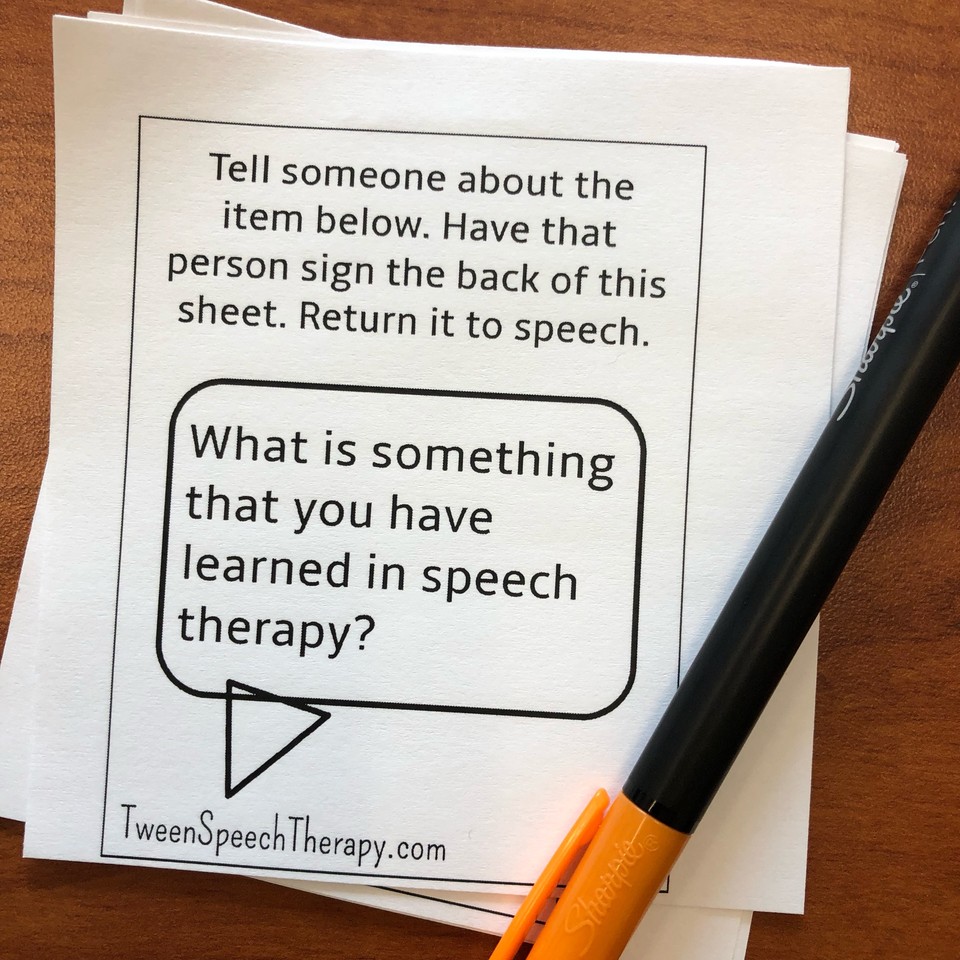 Sample Speech Therapy Homework
This free packet is different than the back to school packet because it contains usable samples of homework for a variety of specific speech and language disorders. The packet also includes a parent handout explaining the importance of home practice. The homework sheets are pocket sized. For virtual sessions: You could use Kami to annotate it and circle the activity you wanted your student to do, then email it to them.
This free interactive book is made by Chapel Hill Snippets. It's a great activity to start the year off with your social skills groups. Students identify things that make them feel different emotions and create a personalized book. For virtual sessions: If they have a printer, scissors, and glue at home, you could send it ahead of time and talk about it with them while they put it together.
This free articulation treatment guide is made by Dawn Moore of Expressions Speech. If you've ever struggled with teaching the /r/ sound, you need this guide! You might also be interested in reading my article about articulation therapy for older students.
Handouts, Certificates, and Fun Stuff
Editable Sticky Notes Template
Make a copy of this editable template, customize it, and design your own sticky notes. Ideas for sticky notes: reminders to sign and return something to you, goal reminders for students, visual schedules, and anything else you can imagine. This is part of my freebie library for folks on my email list.
Speech Therapy Guide for Teachers and Parents
This free handout explains the common speech and language disorders to teachers and parents. It also provides some quick advice on how to help the student.
Graduation Certificate & Discharge Planning Packet
This packet includes three resources to help you with speech therapy graduation: discharge planning workflow organizer, classroom carryover "goal points" tracking chart, and graduation certificate.
This resource contains an entire school year of parent newsletters. The newsletters cover articulation, language (including functional language), and fluency. It works for a variety of age groups.
Sticky Notes Template: Positive Vibes
Spread a little cheer around your school with this free template that makes it easy to print positive affirmations onto your sticky notes.
Download this free printable postcard and write your own resolutions for self-care or use it with your students to have them write their resolutions.
Be sure to sign up for my email newsletter to get updates from my site!