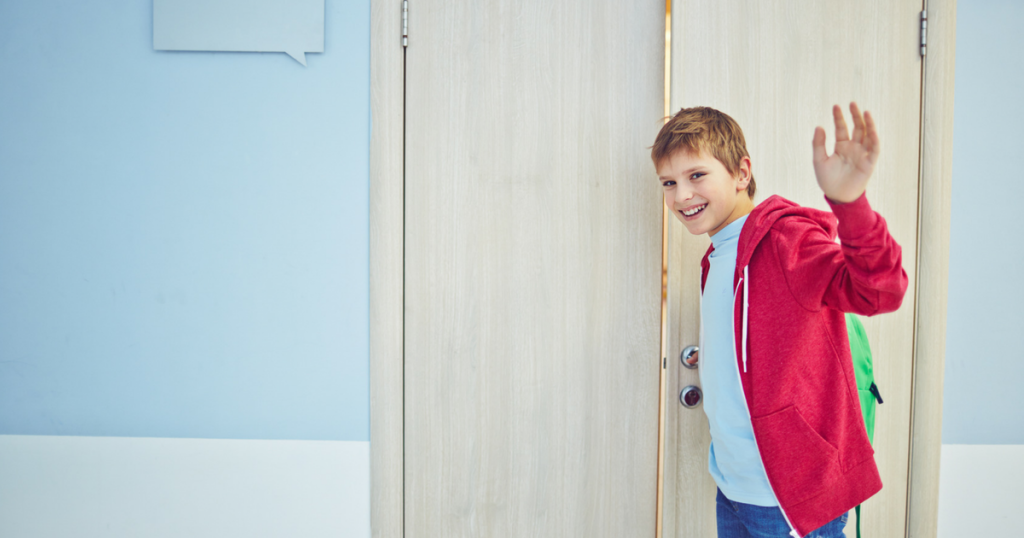 Why is speech therapy discharge planning important?
Think about can happen if you continue serving students who no longer need your services.
Students miss class to see you for a service they no longer need.
Your schedule becomes bogged down with services for students who don't need you anymore, limiting your ability to serve the ones who do.
SLPs serving older grades inherit the students, and a year or more passes before they can gather the data to propose discharge.
I know, the struggle is real
When I first started working in the schools, it was all I could do just to get the therapy sessions in. It was so overwhelming!
Eventually (around my second and third year) I realized that it was up to me to  begin discharge planning when I felt my students might be ready to end speech services. I couldn't expect anyone else to pick up the ball on this.
In my experience serving as Lead SLP, I've found that discharge planning is one of the top challenges we encounter in our work. Whether you're new to the schools or a seasoned SLP looking to form better habits, I hope this article will help you get a handle on how to master the art of speech therapy discharge planning.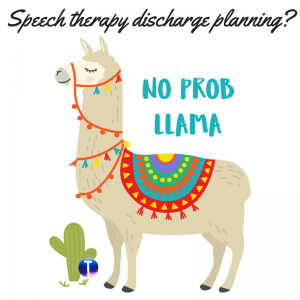 Things to know before you begin your speech therapy discharge planning
Look into what meetings your district requires in order for you to exit a student from speech.
In my state, students must have a re-evaluation meting at least every three years. It's a meeting in which the IEP team decides whether or not the student is still eligible for any services he or she receives. It's a bit more extensive than the annual review of the IEP.
This type of meeting is required when exiting a student from speech therapy in my state. (I should note that this doesn't necessarily mean that testing is required in every case; some re-evaluations are done based on therapy data combined with a review of the previous testing.)
The thing is, there is no requirement that the IEP team has to wait three years. In fact, I tend to think that the three year requirement is there because the state wants to make sure that no student goes longer than three years without the team looking at his or her eligibility.
I would encourage you to find out what type of meeting(s) must occur in your district in order for you to exit a student. You can find this out by asking your Lead SLP or your district's special education director. For the rest of this article, I'll be writing based on my district's requirements.
Don't let administrative convenience dictate when you discharge a student from speech.
I've had SLPs tell me that they didn't discharge a particular student because the student wasn't "up for re-evaluation" that year. What that really means is that the student and the SLP invested time in services that may have not been necessary, due to administrative convenience.
I am not aware of any guidelines that say you have to wait a certain number of years to re-evaluate a student's need for speech services.
Discharge planning often does mean extra paperwork and meetings. If you develop a good relationship with the teachers at your school, you'll be much more likely to get them to understand why you can't "wait two more years" to exit a student who's already meeting her goals.
I highly recommend having face-to-face conversations, as opposed to emailing, whenever possible during the discharge process. Read my blog post, Communicating with Colleagues: 6 Tips, for more ways to foster strong collaborative relationships at work.
Organize your discharge planning workflow.
One of the biggest challenges with discharge planning is that it involves a methodical process that is more complicated than it would seem at first glance. The more organized you are, the easier this process is going to be for you to keep track of.
If you're not as organized as you'd like to be, don't worry! This post has lots of tips and links to materials that will help you form new habits that are easy to maintain.
First tip: Keep summaries and dates of your discharge planning communication with parents and school staff.
Even if you have a photographic memory, you will save yourself time if you can glance at your notes and figure out where you are in the discharge planning process with any given student. This is an example of my discharge planning chart. You can grab it at my Teachers Pay Teachers site.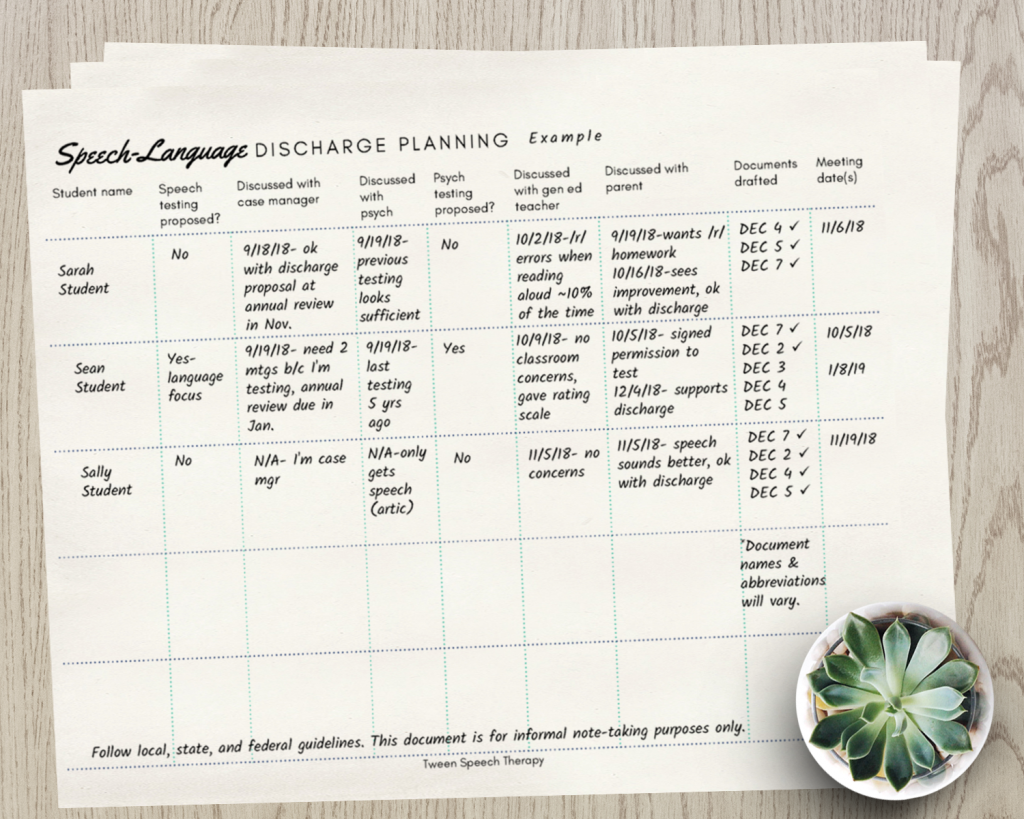 Below I'll go into detail about how to make sure you're covering all of your bases as you prepare to exit a student.
How to do speech therapy discharge planning
Make a list of the students who might be ready to graduate from speech.
Writing down the students' names is the first step in making your discharge planning intentional. If your using the discharge planning chart I made, you'll see a place to write this down.
Do you need to test this student?
For each student, look at the previous testing and consult your school district's policies. In my district, it is up to the discretion of the IEP team to decide if the student's speech and language needs to be re-tested before discharge.
I don't always re-test students. If the IEP team agrees that the previous testing and current therapy data sufficiently addresses the communication concern(s), we can proceed without testing. I recommend re-testing if there are concerns about the student that I don't have therapy data to address, or if the parent requests new testing.
Try to do this step as soon as possible, so that you have time to test the student if need be. Also be sure to download my free editable evaluation checklist to help you keep track of your workflow for each of your evaluations.
Does anyone else need to test this student?
When the IEP team does a re-evaluation for a student in my district, it resets the three year meeting schedule for the student's next re-evaluation. I always consult with the psychologist to see if she wants to test the student, because the student won't pop up on her radar for another three years after this meeting is over.
I bring the list of students I want to exit to the psychologist as early in the school year as I possibly can, and I continue to update the psychologist as new students are added to the list.
This allows time for the any extra IEP meetings needed (for permission to test), and time for the psychologist to do the testing. It's a requirement in my district that if testing is taking place, we discuss the results before removing any services from the IEP.
Talk to the case manager and come up with a timeline.
In my district, the special ed teacher case manages students that get multiple services, and the SLP case manages students who just get speech. If the student you are planning to discharge is case managed by someone other than you, make sure you keep this person in the loop.
Again, I highly recommend face-to-face conversations, as opposed to emails, whenever possible. Are you in a building where these conversations sometimes become tense? Check out my article about leading bravely as SLPs for more information about how to present your best self at the workplace.
You'll want to let the case manager know if you or the psychologist is planning to test the student, as well as what your ideal timeline is for the meetings that will need to happen.
Anytime you want to test a student, you'll need to let the case manager know that there will need to be two meetings- one for you to obtain permission to test and another one for you to go over the results and complete the discharge procedure. If possible, try to time one of those meetings with the annual review of the IEP.
Sometimes the student's IEP is due right away, say October, and I'm not ready to propose discharge yet because I want to test the student or work longer on a skill. In those cases, I know I will have to work with the case manager to schedule a second meeting later on in the school year.
Talk to the teacher(s).
How is the student functioning in the classroom? If you work in a middle or high school, there are multiple teachers. I often seek out a teacher who knows the student well. If the student gets any other special ed services, the special ed teacher is a great resource because they see the student in a smaller group and often get to know him better.
Carryover
If the student is not applying strategies you have taught, it's time to focus on carryover. One tool I use for carryover is a simple goal chart that the teacher can initial when the student displays the communication skill being targeted.
Goal points chart
Here's a goal tracking chart I made. It's part of my discharge planning packet that's available on my Teachers Pay Teachers site.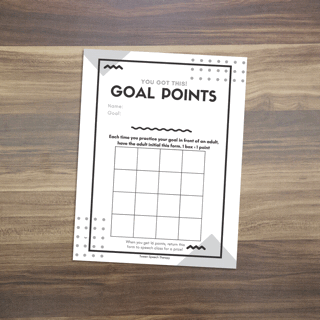 I give the goal tracking chart to the student and discuss what goal we're working on. When I work with upper elementary and middle school students, I let the students themselves be responsible for their goal tracking charts. I explain the chart to the teachers and let them know that the chart will help the student to remember to use the skills we've been working on in speech therapy.
Once the student gets the teacher to initial all of the boxes on the goal chart, he can return the chart to me and pick out something from my prize box.
The students like working toward the reward, but they also learn more about their speech goals and become more aware of using their skills in the classroom. Their teachers also develop a better awareness of the student's speech skills. A completed goal chart lets me know that the student is capable of using his speech skills in the classroom.
Sticky notes reminders
I also use sticky notes desktop reminders with my articulation students. These reminders are printed onto post-its. The teacher can tap the student's post-it anytime a discreet reminder is needed.
Speech action plan
One more tool I use, especially with my students who clutter, is a speech action plan. It allows me to work together with students to track progress toward their goals. The speech action plan is an editable Google Docs template you can access it in my freebie library if you're on my email list.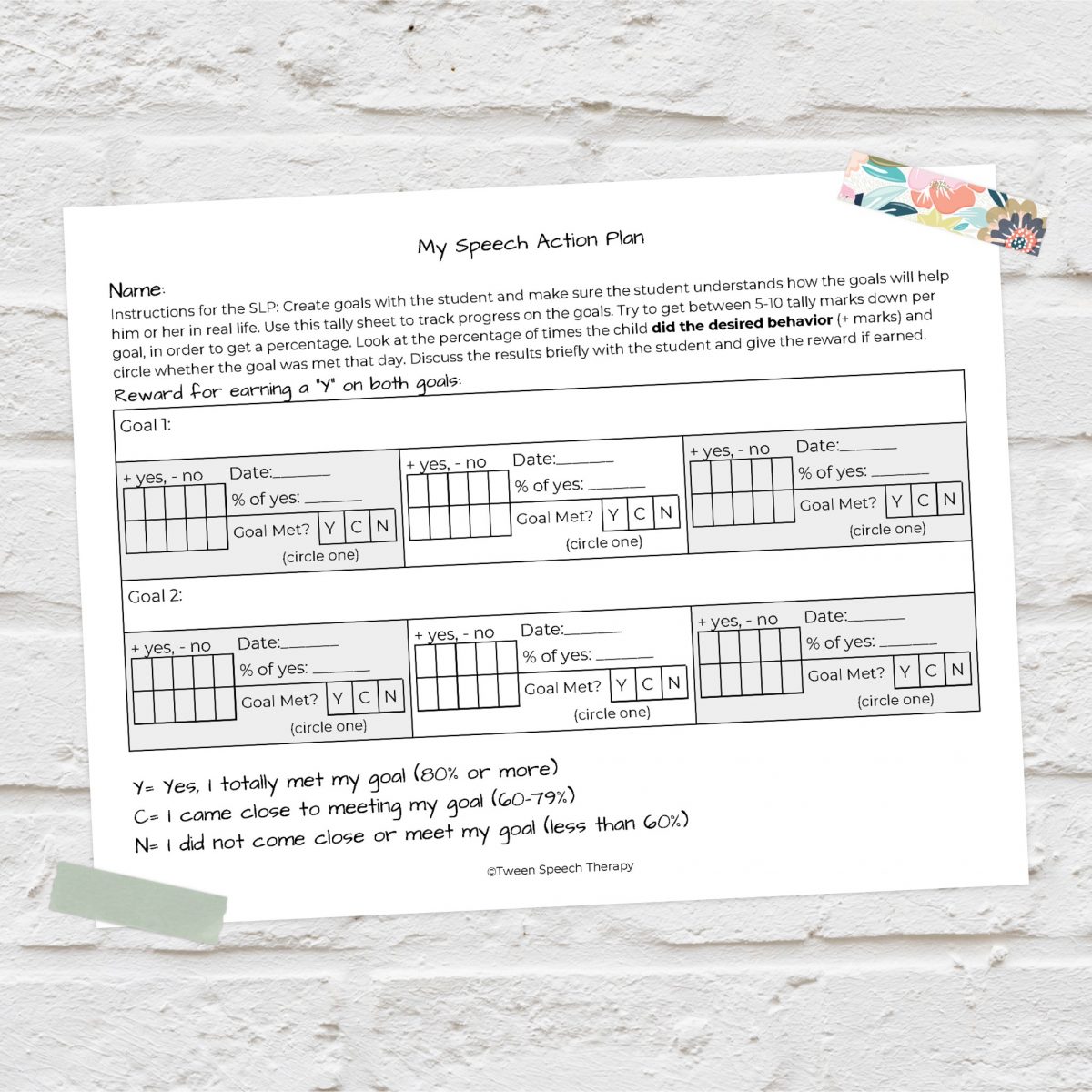 Educational Performance
If I am case managing the student, I also ask the teacher(s) to complete a form that gives me a summary of the student's educational performance. I included this form in my discharge planning packet that's available on my Teachers Pay Teachers site.
The Summary of Educational Performance form tells me about grades, assessment results, teacher observations, and whether the student is meeting grade level expectations. It helps me prep the paperwork and gives me a heads up when a student is struggling academically.
If your "speech only" student is struggling in reading and math, the teachers will most likely need to put interventions in place and document the student's response to those interventions over a period of time. Other services or areas of eligibility may need to be considered if the student's educational performance doesn't improve as a result of the interventions.
Talk to the parents.
When I call parents about students who are close to meeting their goals, I tell them about the progress I've noticed. Then I ask them how their child is doing at home.
This is actually something I do at the very beginning of discharge planning. That way we can address any concerns together.
With my articulation students, I often hear that students aren't using their speech skills at home. One way I address this is through my pocket sized homework program. I've also recommended websites and apps to parents, for home practice.
I've noticed that parents of children who stutter seem to be particularly concerned about their child exiting speech therapy. They'e seen stuttering fluctuate over the years and worry about what will happen if the therapist isn't there to help. I have some books from the Stuttering Foundation that I often lend to parents and students.
There's no one right way to reassure parents. It comes down to listening to their concerns and discussing them in an unhurried manner.
Prepping for the discharge meeting
Before the meeting
If you've been keeping good notes, you should have most of what you need to prep the paperwork for the IEP meeting. I like to create a draft of the paperwork ahead of time so that I'm not scrambling to type everything in during the meeting.
When I create a draft, I make sure and include a review of the student's progress on his goals, a summary of previous assessments, information provided by the teacher (assessments, grades, observations), my observations, and any information obtained from the parent.
I don't make final decisions ahead of time, of course, because eligibility is a team decision. I do, however, make sure that the data is ready for the team to view so the meeting can be run efficiently.
What to bring to the meeting
Of course you'll want to bring your computer, your evaluation report (if you tested the student), and any notes that aren't saved on the computer.
I like to give my students a graduation certificate when they exit from speech therapy, and I bring the certificate to the discharge meeting because many of my students attend their meetings.
Some of my students are glad to be done with speech therapy, while others tell me they'll miss coming. The graduation certificate is a great way to provide resolution for both types of students. It helps emphasize that the student has achieved a level of independence that is worth celebrating.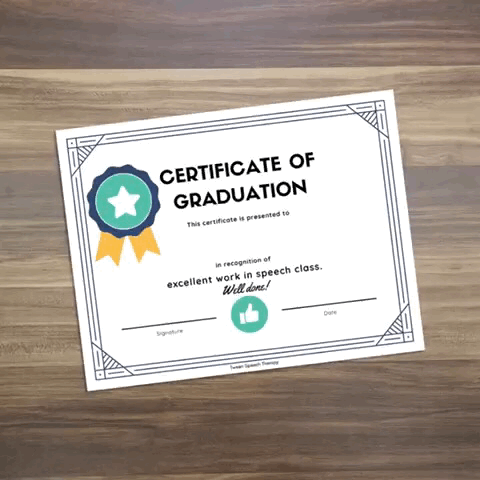 You can do this!
I know we've gone through a lot of information. Try to take it one step at a time. If you've got a student in mind that is meeting his or her goals and is ready to graduate, go ahead and begin this process with that student.
If you feel like you need more support than this article can provide, reach out to another speechie in your district or ask your Lead SLP to pair you with a mentor who can help you with discharge planning. Trust me, they'll be glad you're wanting to hone your skills.
Here is the link, if you're interested in learning more about my discharge planning packet on Teachers Pay Teachers. You can download a preview for free, and then decide whether or not this will be helpful for you.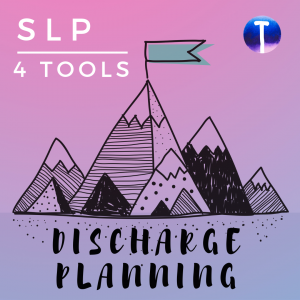 ---